The game of hickory golf has gained tremendous interest in recent years. More and more golfers are enjoying the relaxed change from performance-oriented, modern golf. In addition, Hickory Golf has the pleasant side effect that playing with historical material improves your own golf swing and thus also the performance with modern clubs in the long term.
On the one hand, there are those who enjoy hickory golf who simply want to have a chat. On the other hand are the hickory golfers who also want to take part in official tournaments. For this second group there is no umbrella organization that deals with this topic. SWISS HICKORY GOLF sees its task in giving structures to the increasingly popular hickory golf game.
 Would you like to become a member, then click here ...
---
Fun and enjoyment also need their setting.
IMPORTANT:
SWISS HICKORY GOLF, under the umbrella organization of the Swiss Golf Association, is about to submit an application to become an associated member. As long as this official status has not been achieved, regulations cannot be agreed and defined in a binding manner. The specifications given here are not official and serve only as possible guidelines. SWISS HICKORY GOLF expects to be accepted in the first semester of 2020.
Basics:
Hickory golf should be fun. A joint round of golf should be enjoyable. That is why there is actually no need for any additional framework conditions or regulations. However, a few relevant rules are inevitable for participating in tournaments at national and international levels. SWISS HICKORY GOLF takes care of the national and international coordination of these framework conditions. The following regulations serve as a guide. It makes sense to make these as uniform as possible nationally and internationally. This is what SWISS HICKORY GOLF is committed to.
Dress:
A historical outfit is required for hickory golf events. This includes the following items:
MEN:
Shoes: white, black or earth-colored
Knickerbockers / Plus Fours: earth-colored
Shirt: long-sleeved, white or earth-colored
Bow tie or necktie
Gilet, jacket, sweater, depending on the weather
Flat cap
NO GOs: bright colors, rain pants, gloves, baseball caps, distance measuring devices
WOMEN:
Shoes: white, black or earth-colored
Skirt: long, at least to the shin
Stockings, preferably made of wool
Blouse with or without a jacket, sweater
Cap / Hat
NO GOs: bright colors, short skirts, tight pants
Equipment:
Approved golf clubs are originals from before 1935 or replicas based on models from 1935 and earlier
All clubs must have a hickory wooden shaft
The golf bag has to be historical
NO GOs: Modern clubs and bags, electric trolleys, distance measuring devices
Handicap:
Since the old game material was not yet designed for long distances, because the number of clubs is limited, and as a rule no other aids (distance measuring devices) are used, the following handicap calculation can be used for hickory players at a tournament:
Playing Handicap + Hickory "surcharge"
Pro = + 0
Hcp to 3 = +3 strokes
Hcp 3 to 8 = +4 strokes
Hcp 9 to 14 = + 5 strokes
Hcp 15 to 20 = + 6 strokes
Hcp over 21 = + 7 strokes
Another possibility is to add a handicap factor of 1.5
As an alternative, the blue tees can be used in a tournament for men with the same handicap.
This rule can also be applied when hickory golfers are participating in a normal tournament.
---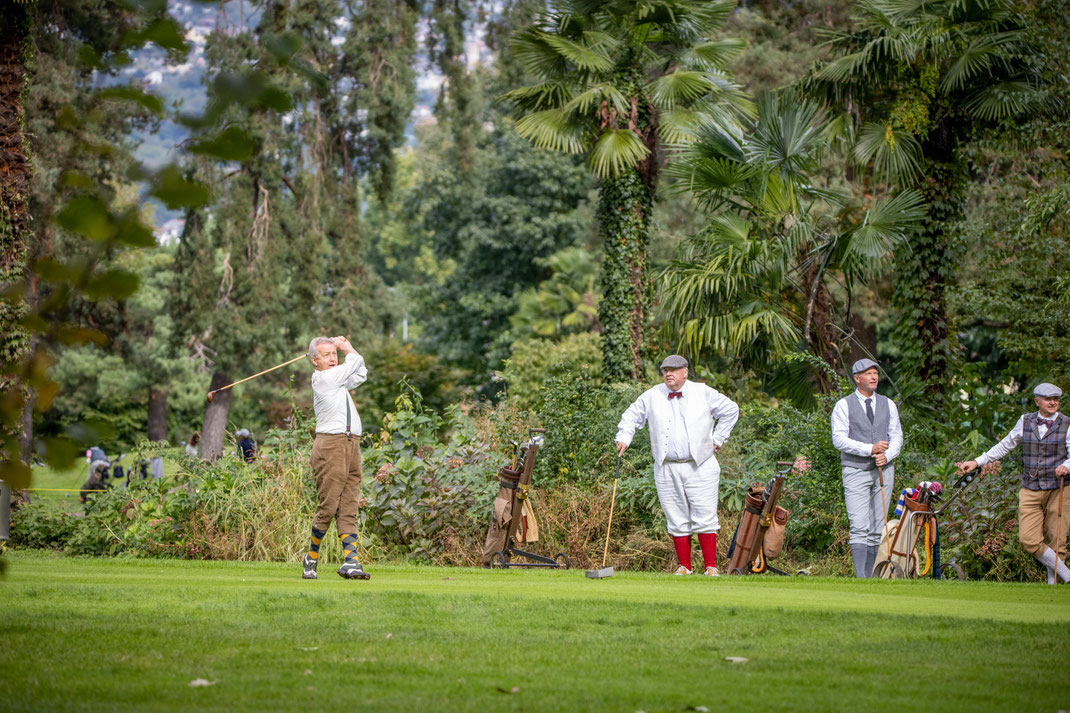 Play opportunities
It doesn't take much to start a delightful round of hickory golf. A pair of suitable clothes, a set of clubs and the desire to experience the fascination of the game of golf without any pressure to perform according to the motto "Enjoy the walk". You can do it alone - but better with two or even with several players. Every golf course in the world is suitable for this.
It is even better to share this experience with many like-minded people.
We are happy to provide information here about open hickory golf events that are organized by various parties at home and abroad. This list is continuously updated with new events. If you are holding an open event, we would be happy to include it here. Contact.
---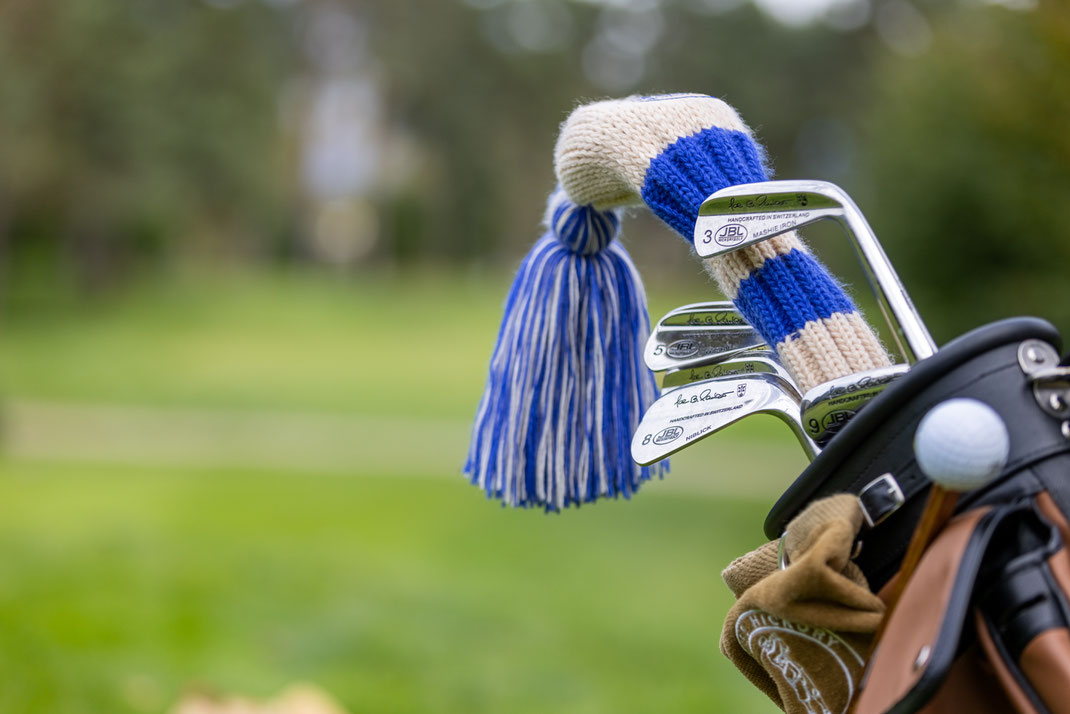 If you don't have a hickory golf set yet, you can easily rent. There are various providers for this. We recommend our partner SWISS HICKORY GOLF. There are also items of clothing such as knickerbockers, knee socks and flat caps. The rental conditions are fair.
---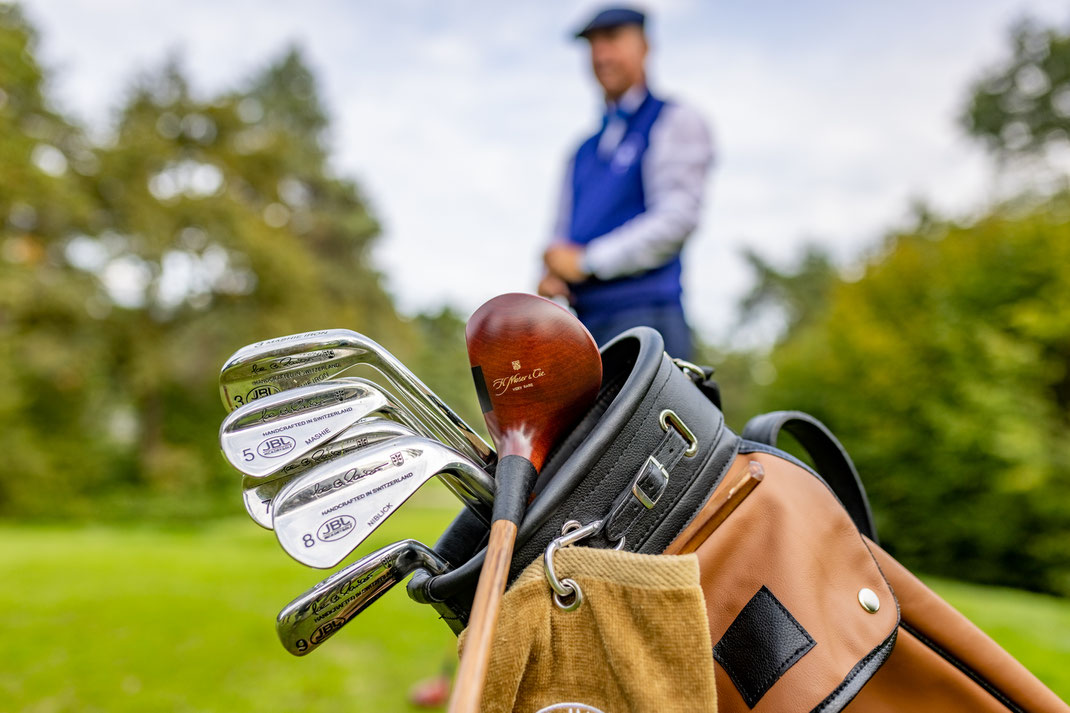 If someone likes to play several rounds a year, wants his own equipment - or sees this as an investment, we recommend buying original or replica clubs. A set with five original clubs is available from just over CHF 1,000. Compared to the cost of modern clubs, the prices for these museum pieces are still quite cheap at the moment. Link to specialist JBL Golf: https://www.jblgolf.com/
JBL SWISS HICKORY GOLF CLUB MANUFACTURY has been offering hand-made hickory golf clubs based on an original template from 1935 since 2017. These are also the first golf clubs ever made in Switzerland. More info.... https://www.jblgolf.com/
---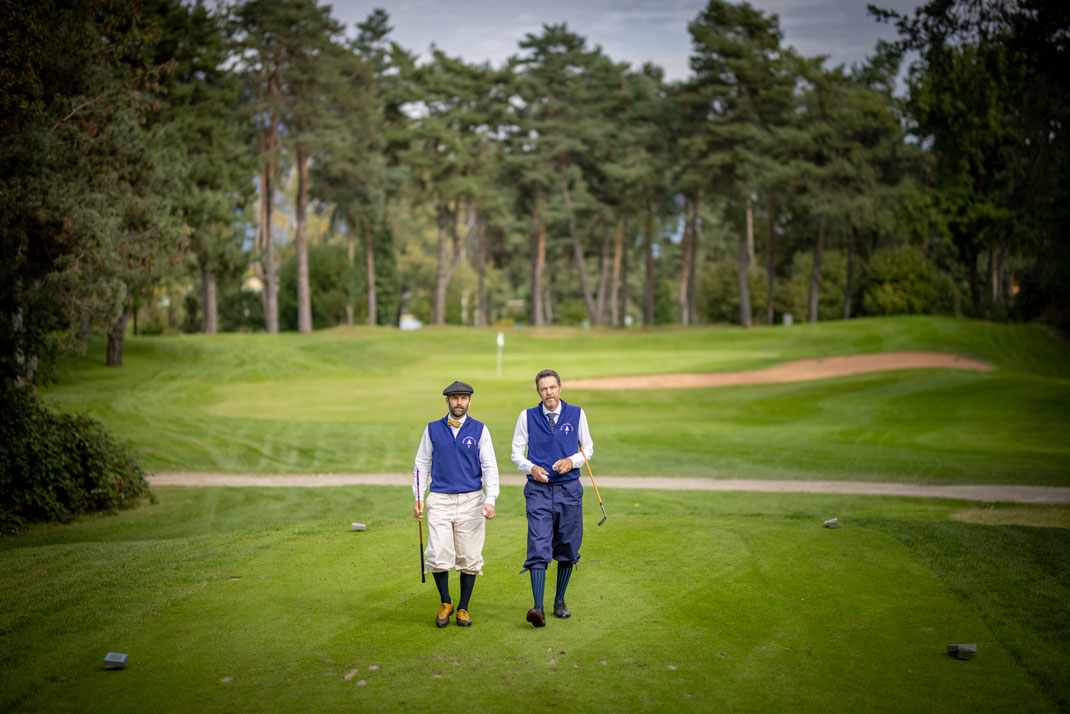 Swiss championships in hickory golf have been held annually since 2016. The focus is on enjoyment - but very impressive results are always played.
Here is a look back at past championships.
---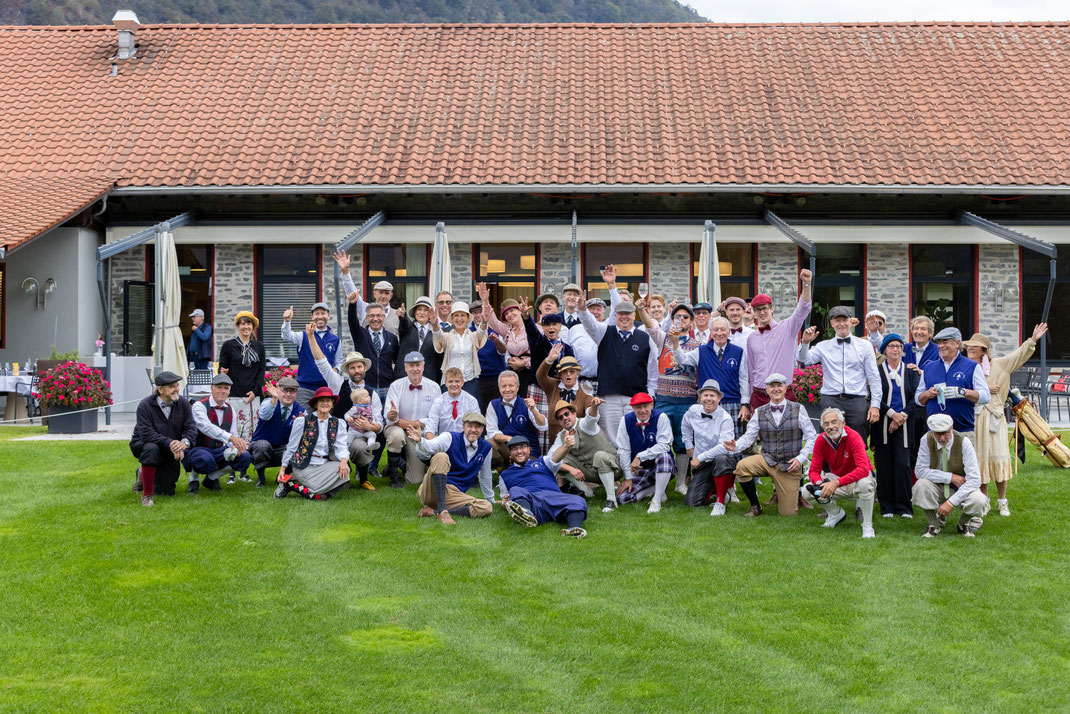 Hickory golf is sometimes regarded as the domain of older men and women, nostalgic for the origins of the game. Yet, more and more, younger golfers are being attracted to the unique challenges of playing hickory … and they're adapting quite quickly.
Leonardo Bono, a native of Locarno in the Italian-speaking section of Switzerland and a second-year student at the University of South Carolina – Aiken in the US, ran away with the gentlemen's stroke play title at the Swiss Hickory Open golf championship … in his first-ever hickory event. Bono fired five-under-par in the first round at Golf Club Patriziale Ascona, which was shortened to 15 holes by recent flooding, then cruised in the final round at Golf Gerre Losone to a 12-shot victory over three players, including his instructor, Paolo Quirici (the 2013 World Hickory Open champion and winner of the 2020 Swiss Hickory Match Play), another Swiss PGA pro, Roberto Francioni, and Andreas Ahlm, who took low net amateur honors.
Bono's victory follows on a similar feat in the 2019 World Hickory Open in Scotland by Sweden's Olle Widegren, a 2017 graduate of Coastal Carolina University, the alma mater of World No. 1 Dustin Johnson.
"Leo played hickories for the first time for one round on Thursday before the SHO and fell in love with the feel of the Stewart clubs," said Quirici, who has been working with Bono for about a year. "That is proof that the good clubs of the time are capable to perfom well in the hands of a good player with a solid swing. For me it is important that the younger generation understand the historical background and the great workmanship that was present in the past."
The week before the Swiss Hickory Open, Bono was low amateur (at -6) in the Swiss Omnium championship at Vuissens, trailing professional winner Joel Girrbach by only two shots.
Bono also teamed to win the Swiss Hickory Open better-ball competition with Constantino Rocca, best known as the only European player to beat Tiger Woods in a Ryder Cup singles match and for his miracle 60-foot putt from the Valley of Sin at St. Andrews' 18th to force a playoff with John Daly in the 1995 Open Championship. Rocca placed 6th in individual SHO strokeplay.
Ironically, Bono was available to play in the Swiss events because of the pandemic; he is taking his college business management courses online, and plans to return to the States in January. He chose USC Aiken, in part, for its "great schedule of tournaments," and was second-team all-conference in the Division II Peach Belt Conference, which features schools in the US Southeast. Bono's goal is to turn professional after graduation "and give myself 3-4 years to reach the European PGA Tour."
The Swiss Hickory Open attracted nearly 50 players, and enjoyed excellent autumn weather. The four-star Belvedere Hotel, which overlooks Lake Maggiore, hosted a welcome reception and two superb dinners for the hickory contingent.
The Stableford ladies (gross) winner was Annelies Tschan of Appenzell, who plays to a 13.6 handicap. The ladies' net winner was Silvia Hefti of Alvaneu.
The men's Stableford gross winner was Nick Hofer of Limpachtal. Net leader was Felix Degen of Gällivare Malmberget.
The 2021 Swiss Hickory Open will be contested at Golf Limpachtal in Buchegg, 27-28 August. The 2022 event is planned for Golf Club Montreux, home of the world-famous Montreux Jazz Festival.
Text written by RICK ADAMS
ALL PHOTOS by Thomas Eberharter (www.becknaphoto.com, instagram: @becknaphoto)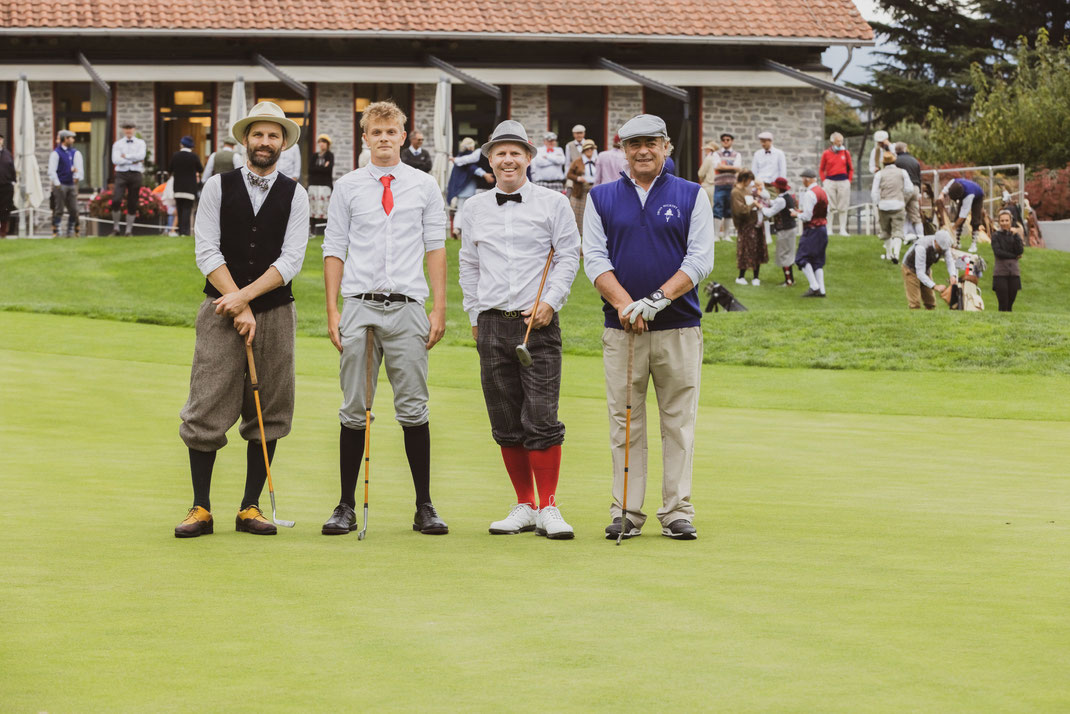 ---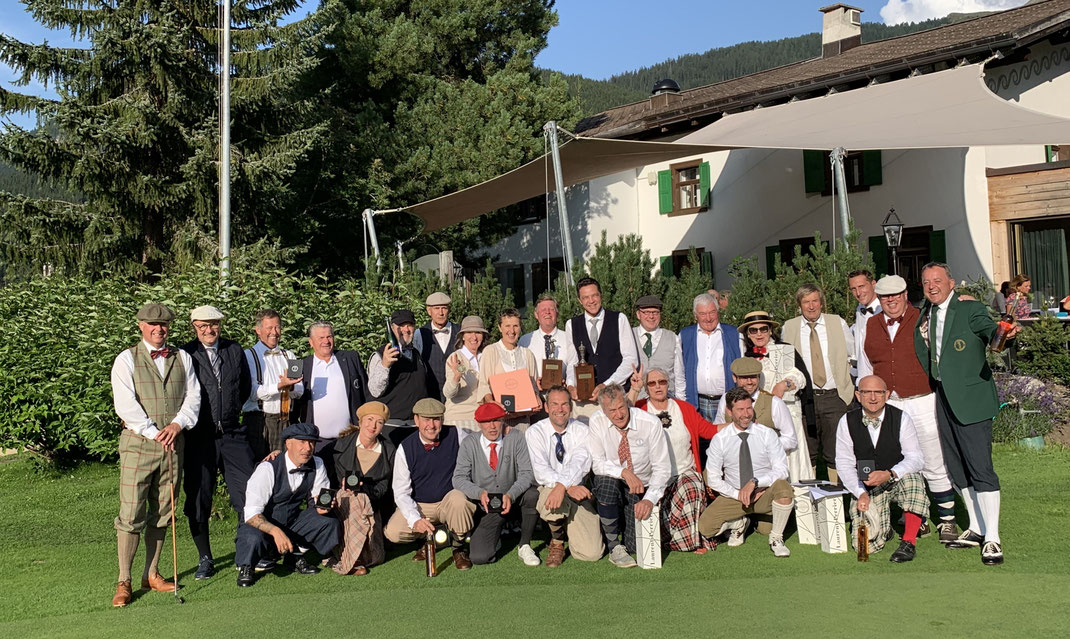 The 4th Swiss Hickory Golf Open Championship, 22 August 2019, attracted about three dozen aficionados to the idyllic Alpine mountain village of Davos, Switzerland (site of the famous World Economic Forum each January). At 1500 meters altitude and with narrow fairways nestled between the mountains and the rail line, accuracy and strategic placement was required.
 The 5469-meter, 130-Slope Davos Golf Club was in superb shape, despite heavy rains two days before, though the 16th hole required a temporary green because a landslide of rocks buried the regular putting surface the month previous. During tournament play, a helicopter was performing clean up.
The individual low gross "damen" was Silvia Hefti from Alvaneu Bad, and the low gross "herren" was Felix Meier from Hittnau-Zürich.
Team honors were won by Swiss PGA member Paolo Quirici and Michele Clerici. In the net competition, Nick Hofer and Bernhard Haussener, both of Limpachtal, took the prize.
Maurus Lauber, organizer of the event, was low net for the men, and Michèle Lauber took women's net honors.
The 2020 Swiss Hickory championship will be contested across two days next August at Golf Club Lugano, close to the Italian border and Lake Como. The 2021 event will be played in Limpachtal, north of Bern, the Swiss center of federal government.
For further results and event photos
Text written by RICK ADAMS